Share the post "Top Best Free Proxies Server"

Click here to add the homepage to your favorites!

Click here to add this page to your favorites
An anonymous proxy server also called a CGI proxy, is a server that works through a web form so that all the internet requests are first filtered through the form, essentially masking your identity.
Setting up a device to use an anonymous proxy isn't difficult in the slightest. Instead of configuring the address of the proxy server in the web browser, like is the case with HTTP or SOCKS proxies, you just have to use the internet like you normally would but do so from the proxy website.
What Does an Anonymous Proxy Do?
An anonymous proxy is designed to increase your privacy on the web by hiding the public IP address issued by your internet service provider and routing all traffic through different public servers and addresses.
These proxies can help people avoid content blocks that some websites place on IP addresses from certain countries. When the website thinks that the request is coming from a supported country, there's no reason for it to block it. For example, if the website you want to use only works for Canadians, then you can use a Canadian proxy server to load the pages.
A similar example where a proxy is useful is if you're on a network that blocks an XYZ website but doesn't block the proxy website, in which case you can use the proxy to access XYZ. It is commonly seen in school and business situations.
Tip: An anonymous proxy is supposed to hide your IP address effectively. See How to Find Your IP Address for some tools that let you double-check that the proxy is working.
What to Look for in an Anonymous Proxy
When evaluating which proxy to use, look for a reputable brand name and one that performs at acceptable speeds. Web browsing sessions through anonymous proxies do not usually run as quickly as normal browsing due to the extra translation overhead involved in going through the proxy server.
If you need to use a web proxy often, consider upgrading from a free proxy to a paid proxy service plan that offers higher performance and perhaps better quality of service guarantees.
Proxy vs. VPN – Are They the Same?
An anonymous proxy works differently from a virtual private network (VPN) because it only handles web traffic that runs through the browser that's using the proxy. VPNs, on the other hand, can be set up for the entire device to use it, which would include programs and other non-web browser traffic.
Also, some VPNs are configured to automatically connect you to a server when your computer starts or when a past one was disconnected. Proxies aren't always on and aren't nearly as "intelligent" because, again, they work only within the confines of a web browser session.
See our Best VPN Service Providers list if you're interested in hiding your IP address with a VPN.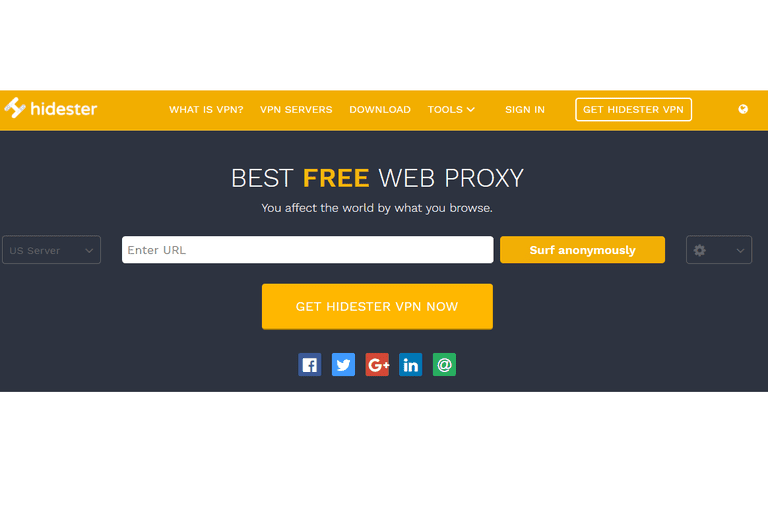 Hidester provides SSL proxy support that protects you from scripts and other malicious methods that could harm your computer. It's touted as the "​most reliable free web proxy in the market."​​​
You can pick between a US or Europe server before you begin browsing, as well as choose to encrypt the ​URL, allow or disallow cookies, accept or reject scripts, and strip away objects from loading.​​​
While you're using Hidester, you can even change the browser referrer so it looks to the website as if you're using a different operating system or web browser.
You can also clear the cookies any websites have stored, and you can do this while you're using the Hidester web proxy.
Note: There's also a free temporary email address and a password generator you can use at Hidester. If you want to pay for Hidester, you can have access to hundreds of other proxies in various countries.  More »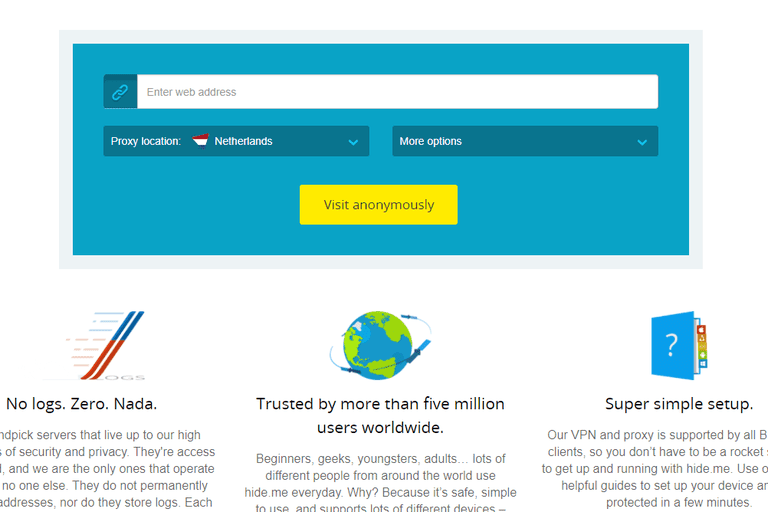 Another web proxy you can use for free anonymous browsing is hide.me.
Start by entering the URL you want to visit and then choose the proxy location from the drop-down box. Your options are Netherlands, Germany, and the US.
Just like with some of the other websites in this list, hide.me lets you disable/enable cookies, encryption, scripts, and objects. More »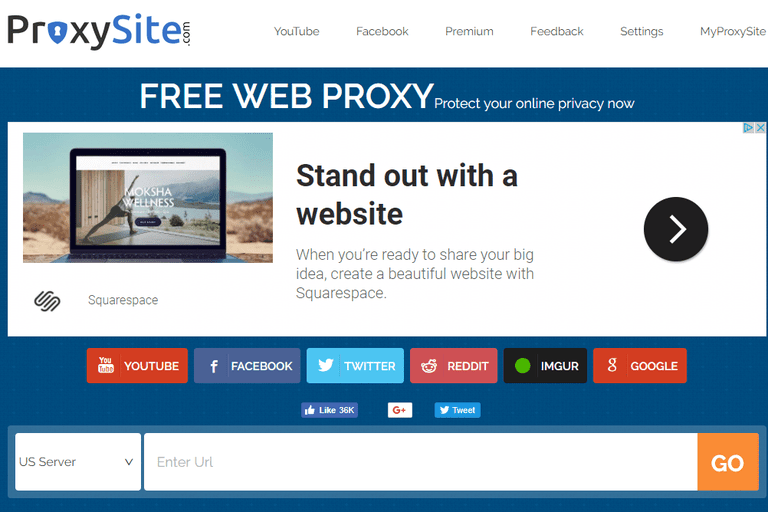 The ProxySite.com website is another web proxy that you can use with any website, including YouTube. You can pick between various proxy servers in the US and in Europe.
At the top of the text box where you enter the URL to use with the proxy, are various buttons to quickly jump right into those websites within the proxy, like Facebook, Reddit, YouTube, Imgur, and Twitter.
You can control whether to use cookies, scripts, and objects, and even block ads in the proxy. You can also change the server you're on at any point in time while using the proxy, which is ideal if you've been banned from the website you're currently using. More »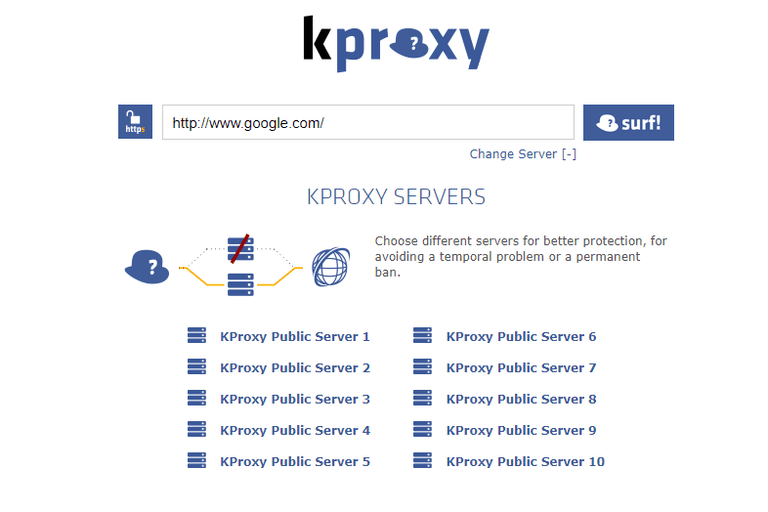 What makes KPROXY unique is that while using the web proxy, you can hide the menu that shows at the top of the screen. Most anonymous web proxies stick the menu there without an option to hide it, and it can make it difficult to browse effectively.
Another benefit to KPROXY is that you can switch between ten different servers if you find that your IP address has been blocked while using one of them; just switch to another to get instant access again.
Something else you'll find with KPROXY but not with any of these other anonymous proxies, is a small app you can install to anonymize all of your web traffic within the Chrome or Firefox browser (there are two separate apps that each work with their respective browser).
Note: The KPROXY app is similar to a VPN but it only works when browsing the internet within the boundaries of Chrome or Firefox, depending on which program you have installed. It's really just a proxy that's applied to all the web pages requested through the browser. More »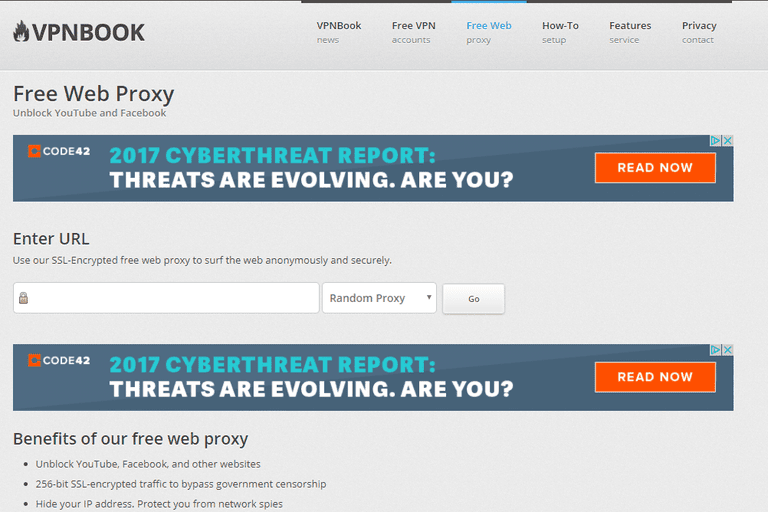 VPNBook provides a free anonymous web proxy that's seems cleaner and less cluttered than some of the others in this list.
This proxy website supports HTTPS sites and uses 256-bit encryption to hide your traffic. You can pick to use a proxy server in the US, UK, or Canada.
It's really easy to change which website you want to browse for from within the VPNBook proxy by typing it in at the top of the page.
You do not, however, have control over using or disallowing cookies, blocking scripts, etc., like some of these other proxies support. More »
Zend2 works much like these other anonymous proxies with the exception that you can use it with YouTube and Facebook. Some free proxies don't support those websites.
It means you can watch YouTube videos behind a proxy without worrying about incurring charges or having to pay for a premium proxy service.
Of course, disabling or enabling any of the following is supported as well: encrypted URLs, encrypted pages, scripts, cookies, objects. However, these options are only applicable before you start using the web proxy, unlike a few of these anonymous proxies above let you customize those options even while you're using the proxy.More »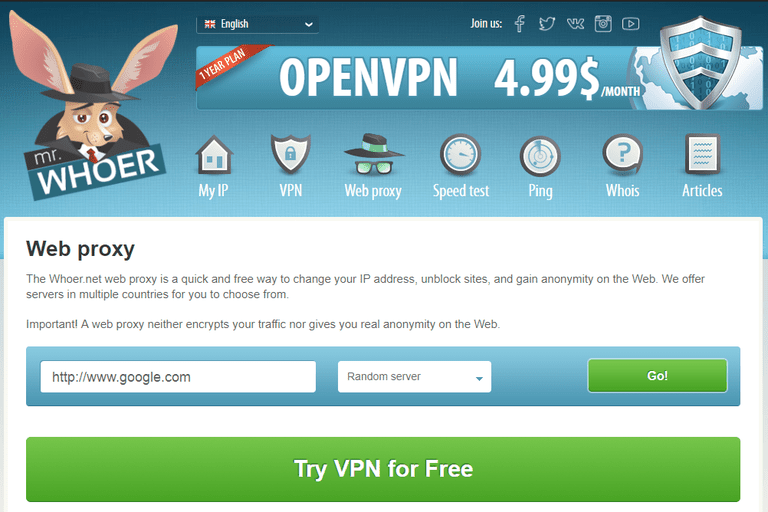 The primary difference you'll get if you use Whoer.net as an anonymous proxy website is that you can have the proxy server chosen for you or you can manually pick between seven locations.
These are the locations that you pick from with Whoer.net: Paris, France; Amsterdam, Netherlands; Moscow, Russia; Saint-Petersburg, Russia; Stockholm, Sweden; London, UK; and Los Angeles, US.
Unfortunately, you cannot remove the huge ad at the top of the browser that asks you to purchase their VPN service; it often gets in the way. More »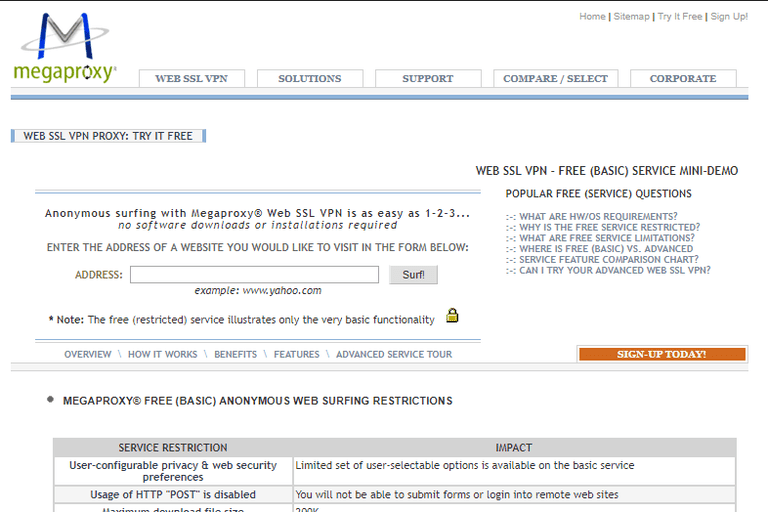 Megaproxy has some unique options that make it a little different than some of these other anonymous web proxies.
You have the freedom to disable/enable OS and browser user agent identification plus the option to remove ads from web pages, limit animations to two iterations, and block all cookies.
Because Megaproxy is free, you can not use it to submit information into forms or login remotely to websites, nor can you download files larger than 200 kilobytes, block JavaScript, delete embedded Flash files, access HTTPS sites, stream media files, or view over 60 pages within five hours. More »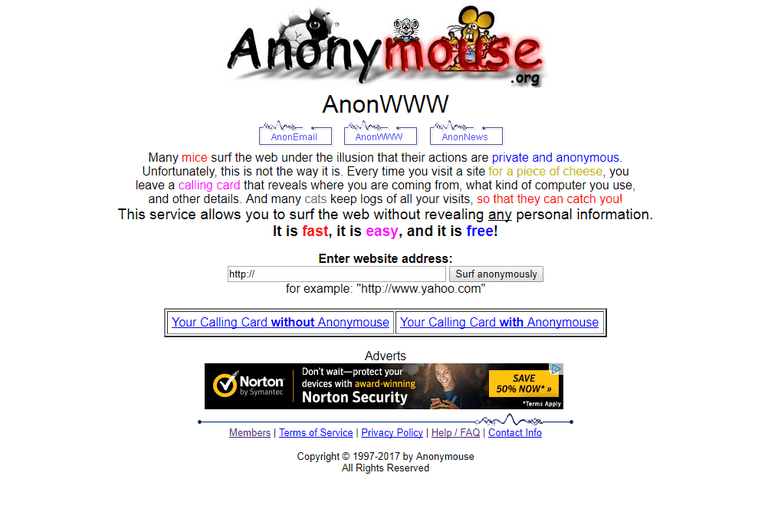 Anonymouse has been around for many years now, supporting web, email, and Usenet (news) proxies. The website has been translated for use in both English and German.
Though it is completely free to use, you do have the option to purchase a low-cost subscription for faster proxy servers and additional services like ad-free surfing, larger file downloads, and the ability to access HTTPS websites.
Privacy 4 Free – The best free tools to protect your digital privacy.
Proxy Tester – Make sure that your new "high anonymity" proxy is really anonymous.
My Location – Your location as seen from the Internet using your IP address and new HTML5 geolocation feature.
Cryptomat – Encrypt or decrypt any text messages online using the industry-standard AES algorithm. This tool operates strictly in-browser, without sending your entered data to the server.
StayInvisible – Analyze what does your browser reveal about you, to understand online privacy threats and learn how to stay anonymous online.
iPrivacyTools – Easy-to-use software lets you change your IP address anytime by routing your Internet traffic through private and secure servers worldwide.
Proxy Checker – Free online checker for ip:port proxy servers.
Digital Cybersoft – Free online proxy checker and other proxy-related tools.
<a href="javascript:window.external.addFavorite('http://www.trueeasylife.com','http://trueeasylife.com');">
Click here to add the homepage to your favorites!</a>
<span style="cursor: hand; text-decoration: underline;" onclick="window.external.AddFavorite(location.href, document.title);">
Click here to add this page to your favorites</span>